In an article dated November 28th 2012, located in the UK Politics section of the BBC News website and entitled "William Hague says UK may abstain in Palestinian UN vote", we find the following passage:
"In a short debate in the House of Lords – the UK Parliament's second chamber – to mark the 95th anniversary of the Balfour Declaration, independent peer Baroness Tonge said the Palestinians had been "totally betrayed" by successive British governments.
The 1917 Declaration, in the form of a letter by the then foreign secretary Arthur Balfour to Lord Rothschild, is regarded as the first significant assertion by a world power of their support for a Jewish "national home" in what was then known as Palestine.
Baroness Tonge, a frequent critic of Israel who quit the Lib Dems earlier this year, added: "By making our government's support for the UN bid conditional on Palestine not pursuing Israel through the ICC, is the government not admitting Israel has committed war crimes in Gaza and the West Bank and is seeking impunity for that country?"
But Labour peer Lord Turnberg said he thought the UN application was "more of a distraction than a help" to efforts for peace."
The so-called "short debate", which took place on November 28th 2012, was in fact a question posed by Jenny Tonge – as clearly shown in the records: 
Interestingly, of all the contributions made to the discussion, the BBC elected to extensively highlight that of Jenny Tonge, whilst  
euphemistically describing her as "a frequent critic of Israel".  
There is much that can be said about Jenny Tonge's long and extensive involvement in anti-Israel campaigns and none of it is pleasant. 
Having been removed from her position as an MP by her party in 2004 following her claim that she might consider becoming a suicide bomber if she lived in the Palestinian territories, Tonge 'graduated' to the House of Lords in 2005 after having been made a life peer.
There she continued to use her public platform to promote offensive – and often antisemitic – tropes such as those of 'Jewish power', 'apartheid' and 'organ stealing' – with the latter resulting in her removal from the position of Health Spokesperson for the Liberal Democrats. In February 2012, she finally parted ways with that party after refusing to apologise for yet more offensive anti-Israel remarks and now sits in the House as a representative of no-one but herself.
Jenny Tonge is a patron of the 'Palestine Solidarity Campaign' – an organization which supports and enables proscribed terror organizations such as Hamas and has frequently dabbled in antisemitism itself.  She used to be a patron of the 'Palestine Telegraph' – an antisemitic 'newspaper' run by Hamas supporter Sameh Habeeb – and she is a "supporting VIP" of the Hamas-linked, flotilla-organising 'European Campaign to End the Siege on Gaza'.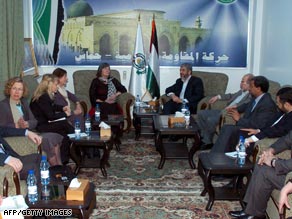 Tonge visited Hamas leader Khaled Masha'al in Damascus in 2009 (pictured here second to Masha'al's right) and has made frequent trips to the Gaza Strip, including some at the expense of the Hamas lobbying front known as the Council for European Palestinian Relations. 
To describe Jenny Tonge as a "frequent critic of Israel" is therefore akin to portraying the BNP's Nick Griffin as having a passing interest in demography. 
It is incomprehensible why the BBC should choose to highlight Tonge's malicious fringe agenda – whilst whitewashing her shameful racism in the process.