With the BBC's team reporting from Egypt mostly concentrated in Cairo, little of its extensive coverage has related to events outside the capital and other major cities. Particularly noticeable has been the lack of coverage of recent incidents in the increasingly volatile Sinai Peninsula.
On the night of Thursday July 4th the sound of several explosions was heard in Eilat, but searches of the area did not find any evidence of missiles having hit Israeli territory. Despite that, a Salafist group claimed responsibility for having fired rockets which, according to them, "frightened Allah's Jewish enemies".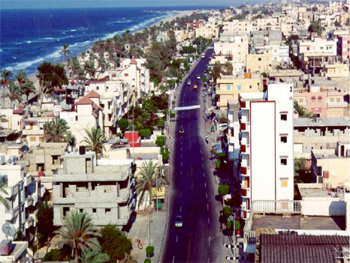 On Friday July 5th Egyptian sources reported that five police officers and a soldier were killed in several separate incidents in northern Sinai. On Saturday July 6th, a Coptic priest was murdered in El Arish and a number of checkpoints attacked. On the morning of Sunday, July 7th, the Sinai gas pipeline to Jordan was once again blown up.
According to some sources, the Egyptian army increased its presence in northern Sinai from early last week, with its closure of smuggling tunnels underneath the border between Egypt and the Gaza Strip continuing and the Rafah crossing closed. So far the BBC has – yet again – shown no interest in reporting the closure of smuggling tunnels by Egypt.
Among the issues raised in the June 2012 Mortimer Report on the subject of the BBC's coverage of the 'Arab Spring' was the question of whether the BBC's coverage of the 2011 events in Egypt was too 'Cairo-centric' and the fact that it did not report sufficiently on the subject of the Salafist factions. Whilst some of the recent news coming out of Sinai may not be directly related to the current political upheaval in Egypt, both its internal and regional significance render it newsworthy.