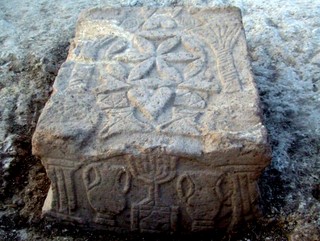 It would appear that Melvyn Bragg is making a documentary about the New Testament figure of Mary Magdalene for the BBC and has recently visited places in Israel and the Palestinian Authority-controlled territories as part of the process. 
Bragg writes on his BBC blog:
"The last few weeks have been fast motion. [….] Then there's been filming […] in Israel and Palestine on Mary Magdalene – documentaries for the BBC …"
Among his descriptions of the region we find this: [emphasis added]
"In Bethlehem I went to a hill which overlooked the winery and the ever-extending Wall and settlements which have an air of fortresses."
One can but hope that the finished documentary will manage to steer clear of such gratuitous, politically influenced exaggerations.