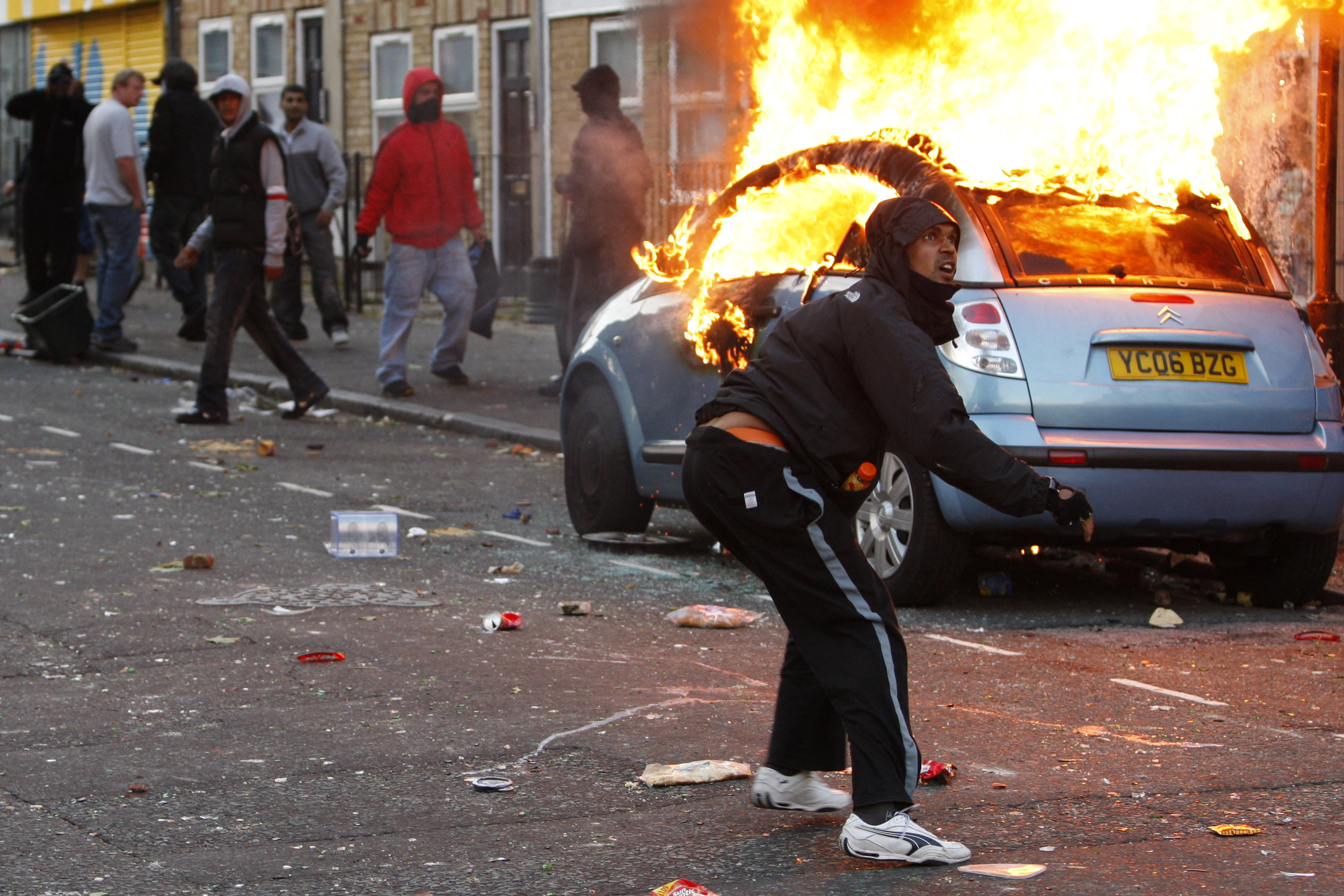 In August 2011 thousands of people took to the streets in London and other English cities and engaged in several days of violence after a man was fatally shot by the police in Tottenham. The BBC had no doubts as to what term to use to describe those actions: riots. 
London riots: Rival gangs joined forces
London riots: Looting and violence continues
As it happened: England riots day five
England riots one year on: Culprits jailed for 1,800 years
Just three days after its previous article on the subject of Palestinian hunger strikers, the BBC published another report on February 21st about the riots – ostensibly in support of those hunger strikers – which took place at Beitounya near Ofer prison outside Ramallah on that day. 
"More than 60 people have been injured in clashes between Palestinians and the Israeli army in the West Bank, the Palestinian Red Crescent has said."
"The demonstrators were calling for the release of four Palestinian prisoners who are on hunger strike."
That article – like the one before it – refrains from fully informing BBC audiences of the actions and affiliations of the four hunger strikers, despite the fact that – as previously documented here – the information is readily available. 
Interestingly, given the BBC's close interest in the subject of journalists in war zones, the article neglects to mention that in addition to the injuries reported, three Israeli journalists were also injured by Palestinian stone-throwers. 
"Palestinians threw stones at the security forces, and lightly wounded three Israeli journalists – Nadar Bagdasa and Roy Sharon of Channel 10 and Yoram Cohen of Channel 1 – during the protest, which lasted from 11 a.m. until the evening."
The article also states:
"Youths, gathered outside Ofer prison near Ramallah, threw stones and petrol bombs towards Israeli soldiers.
The soldiers fired tear gas and rubber bullets. There were reports of live fire being used."
Evidently the BBC did not bother to check that latter claim with the IDF Spokesman's Unit before publishing it.
"The IDF denied that soldiers used live ammunition at Ofer."
The next day, February 22nd, the BBC produced yet another report  – entitled "Clashes over hunger-striking Palestinian prisoners" – on the continuing violent riots yet again  dubbed as "protests" by the BBC. [emphasis added]
"Hundreds of Palestinians have clashed with Israeli forces across the West Bank and East Jerusalem, amid protests over hunger-striking prisoners."
Note this strange use of punctuation in this next sentence, suggesting that the BBC is not only reluctant to use the word "rioters" itself, but also keen to rebrand them as "protesters":
"Stun grenades were fired "to disperse rioters" in the al-Aqsa Mosque compound in Jerusalem, after protesters there threw stones at police, officials said."
Yet again the article does not inform audiences of the full facts surrounding the hunger strikers, neglecting to mention that Qaadan and Ezzedine are senior members of the Palestinian Islamic Jihad or that Sharwana's rearrest was due to his return to Hamas activity following his release. Interestingly, the article also states:
"Issawi was initially arrested in 2002, and in 2004 sentenced to 26 years in prison. He was convicted of being a member of the Popular Front for the Liberation of Palestine (PFLP), proscribed by Israel as a terrorist group, and of shooting at Israeli vehicles."
Issawi is actually connected to the DFLP (Democratic Front for the Liberation of Palestine) rather than the PFLP, but seeing as one of the few to make that same mistake is Wikipedia, one must wonder if the BBC has been using that notoriously unreliable source. 
The article also includes a filmed report by Jon Donnison – apparently broadcast on BBC television. In that report Donnison also uses toned-down language to describe the Palestinian rioters and promotes the rumour of live fire having been used: [emphasis added]
"…some reports of live fire towards one hundred or so Palestinian protestors who were throwing stones…ah..in some cases Molotov cocktails…"
"Now these protesters were here demonstrating against the continuing detention of four Palestinian prisoners who are being held in Israeli jails who are on hunger strike."
Yet again, Donnison fails to inform his audience of why the men are in prison or of their affiliations to terror organisations. He continues:
"Now these prisoners are all protesting a situation in Israel where prisoners can be held without trial or even charges if they're regarded as a security threat. That is a system called Administrative Detention…err..in Israel and those prisoners – or at least some of those prisoners – are being held under those conditions."
Donnison fails to make it clear to his audience that Administrative Detention is not an exclusively Israeli phenomenon: sometimes known as 'internment', it is also used in his own country, in Ireland, in the US and in Australia. Donnison's 'explanation' makes Administrative Detention sound like a pretty arbitrary affair, but in fact the practice is governed by strict rules. 
"In accordance with the Order Concerning Security Provisions applicable in the West Bank,[1] a Military Commander (namely, a high-ranking IDF officer with specific authority) may order the administrative detention of a person if there are reasonable grounds to consider that taking such a measure is necessary for imperative reasons of security.
• Such an order must rely on credible, current and reliable information, as detailed as possible, showing that the person poses a specific and concrete threat of a substantial nature to the security of the West Bank or its population.
• Administrative detention is used solely as a preventive measure and only as a last resort, and cannot be employed where criminal prosecution is possible or less restrictive administrative procedures would adequately contend with the security risk posed by the individual.
• The procedure for issuing orders for administrative detention includes several safeguards against both abuse and arbitrariness:
First, prior to the issue of a detention order, an independent military prosecutor provides a legal review through conducting an assessment of the order that is legally binding on the Military Commander.
Second, once a detention order has been issued, it is subject to a multi-layered system of judicial review by the Military Courts in the West Bank. Detainees wishing to challenge detention orders may also file a petition with Israel's Supreme Court sitting as the High Court of Justice. Detainees have the right to legal counsel of their choice throughout this process.
• Administrative detention orders mostly rely on sensitive and classified information gained from intelligence sources. Due to its confidential nature, this information cannot be disclosed in full to the detainee or their attorney so as not to endanger the safety of the source or frustrate future intelligence gathering abilities. In these cases, detainees are provided with the general reasons for their detention.
• Administrative detention may be ordered for a period of no more than six months. Following this period, a renewed detention order may only be issued on the basis of an updated assessment of the threat posed by the person, which establishes that continued detention is required to confront the threat posed by that person. Any renewed detention order is subject to the same avenues of review and appeal as an initial order."
Donnison's inaccurate portrayal of the Administrative Detention process, together with his and the general BBC failure to inform audiences of the terror connections of the hunger strikers and the downplaying of the organized rioting through use of words such as "protesters" and "demonstrations", all combine to create an overall impression of a spontaneous reaction to an injustice perpetrated against passive Palestinians. 
That, of course, is far from being an accurate picture of the reality behind these orchestrated riots and the part they play in the political campaign engineered by the Palestinian Authority and intended to create leverage through international opinion against Israeli counter-terrorism measures. Whether or not the Palestinian Authority will be able to contain and control the violence it is currently mobilising for political reasons remains to be seen, especially in light of the fact that Hamas – which has greatly consolidated its power in PA controlled areas of late – is now rallying its supporters behind the same banner.  
What is clear is that the BBC's consistent failure to accurately report the real political agenda behind the hunger strikes by Palestinian prisoners, together with its playing down of the associated organised riots in order to present them as some sort of legitimate protest, actively denies BBC audiences the ability to fully understand the real issues behind the news. 
When the BBC classifies violent events in London as riots, but rebrands similar events in Jerusalem, Ramallah or Hebron as "protests", it should not be surprised if audiences view that as a clear case of double standards.