Readers no doubt remember that just three months ago BBC journalists produced several articles on the subject of Palestinian prisoners who were at the time on hunger strike.
Those BBC reports systematically omitted relevant information regarding the terrorist activities which were the cause of the men's imprisonment. An article from February 18th 2103 merely stated:
"One, Samer Issawi, has been on an intermittent protest for 200 days and is said to be in a critical condition.
The three other hunger strikers are Tariq Qaadan, Jafar Ezzedine and Ayman Sharawna."
Another report – by the BBC Jerusalem Bureau's Yolande Knell, dated February 28th 2013 stated:
"Two others, Samer Issawi and Ayman Sharawna, are still on hunger strike and are being observed in hospital."
As BBC Watch reported at the time:
"Ayman Sharawna, from Dura near Hebron, was also released under the Shalit deal in October 2011, by which time he had served ten years of a 38 year sentence for attempted murder and bomb-making. Sharawna is a member of the Hebron branch of Hamas and was rearrested on January 31st 2012 due to violating of the terms of his release by returning to Hamas activities. Shawarna was originally apprehended on May 10th 2002 when he and another terrorist planted an explosive device near a branch of Bank HaPoalim on HaAtzmaout Street in Be'er Sheva. The device malfunctioned, but despite that eighteen people were injured in the attack. Sharawna and his accomplice were caught fleeing the scene by members of the public and he was also found to have taken part in prior shooting attacks during the second Intifada." 
In March Ayman Sharawna agreed to be exiled to the Gaza Strip for ten years in return for his release from prison. Two months on, he is to be found yet again engaged in activities with the terrorist organisation Hamas, as shown in footage obtained by Israel's Channel 2 TV station.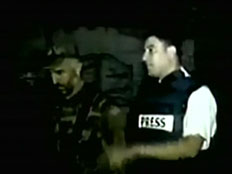 "In the clip, shown on Channel 2 News Tuesday (Hebrew), Sharawneh [also Sharawna] can be seen donning combat fatigues and lacing up his boots before taking up a rifle and joining a patrol of Hamas's military wing, the Izz ad-Din al-Qassam Brigades, along the Strip's border with Israel.
"Our message to the occupiers is clear," Sharawneh says to the camera. "We are here to protect our land."
Sharawneh is shown joining a briefing with several heavily armed Hamas fighters and then posing as he aims a rifle from behind the cover of a tree.
"We will liberate al-Aksa (the Temple Mount) and the West Bank," he continues. "All of Palestine, from the [Mediterranean] sea to the [Jordan] river, will be liberated, and we will release our brothers, the prisoners." "
Just as it did not trouble audiences with the details of his original engagement in terrorism, there is little reason to anticipate any reporting by the BBC on the subject of Sharawna's latest activities. BBC licence fee payers, however, might be wondering why – yet again – they are not being told the whole story.