On the evening of October 17th a man tried to infiltrate an Israeli army base north of Jerusalem using a bulldozer. Ynet reports:
"An initial investigation into Thursday's incident showed that just before 7 pm a tractor approached the main gate of the base, which serves an Artillery Corps battalion. The soldier guarding the gate walked toward the mechanical digger, at which point the terrorist stepped on the gas and tried to run him over.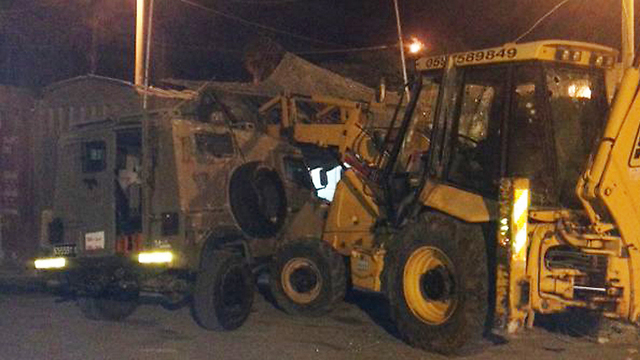 "The soldier jumped out the way at the last second, but the terrorist wouldn't give up. He turned around and tried to run over the soldier again and again," a senior officer in the Judea and Samaria Division said. "At this point the terrorist raced toward the guard post, where the soldier fled to, and rammed into it with the soldier inside, knocking it a few meters forward. The soldier sustained light injuries to his leg."
The officer said that a concrete pillar placed near the entrance to the base is what prevented the terrorist from continuing to try to hurt the soldier. "The terrorist drove another 150 meters (about 164 yards) into the base while crashing through the gate. He hit one of the battalion's vehicles and an armored jeep as well. Two fighters who heard the noises understood it was a terror attack. They opened fire and neutralized the terrorist," said the officer."
The official PA news agency Wafa reported that the man was thirty year-old Yunis al Radeideh from Bet Hanina, referring to "the martyrdom of Citizen Radaideh". According to reports, al Radeideh's brother carried out a similar terror attack using a bulldozer in 2009 in Jerusalem, injuring two police officers. 
The BBC's short report on the incident appeared on the Middle East page of the BBC News website on the evening of October 17th. In line with usual BBC practice, the report's headline presents the last in a series of events first: "Israeli troops kill Palestinian who rammed army base".
Notably, the parts of the report describing the attacker's actions refer exclusively to inanimate objects, obscuring his attempt to harm the sentry.
" […] rammed army base"
" […] break into an Israeli army base"
" […] broke down the gate to the base"
Despite reports in the local media to the contrary, the BBC states that: "There were no Israeli injuries".
The BBC report ends:
"The BBC's Kevin Connolly, in Jerusalem, says the violent incidents form an unpromising backdrop to the peace negotiations between Israelis and Palestinians, which continue behind closed doors."
No mention is made of the "backdrop" of the Palestinian Authority's continued glorification of terrorism and incitement and the word 'terror' does not appear at all in this report.